Most women, who suffer private organ pain during intimacy, are unaware of the factors that cause such health challenge.
However, today's content will widen your knowledge to the common causes of "Dyspareunia", known as painful intercourse.
As sourced from Healthline, below are the common factors that are responsible for the unbearable private organ pains, a woman may feel during intimacy.
1. One of the major condition or factor that will alter private organ pains in a woman during love making, is endometriosis, known as an abnormal growth of body cells, which is located around the reproduction organ of a woman.
The endometriosis, which comes with symptoms like, diarrhea, upper body pains, excess urination and others, can trigger the woman's private organ pain during intimacy.
2. Another factor, is woman's private organ dryness, which in most cases can trigger painful intimacy because the body suppose to discharge some fluids which will make intimacy less painful.
However, if the woman's private organ is dried, it will cause unbearable pains during intimacy.
3. The pelvic inflammatory disease, also known as PID, is another factor that can cause a woman to feel great pain in her private organ during intimacy because she is having issues with her womb, ovaries and the fallopian tubes which can affect the organ, and make her feel pains during intimacy.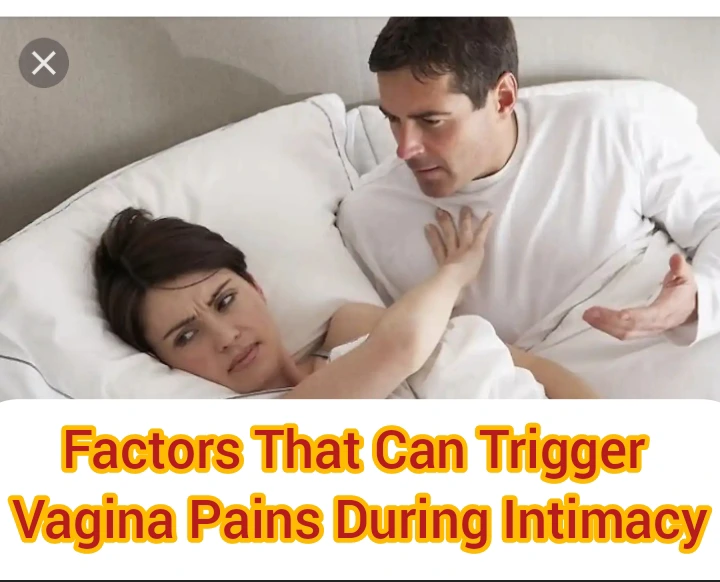 Conclusion: Above are the common factors that triggers painful intimacy for a woman, and those who are victims to such health challenge, which can make the woman not to enjoy intimacy, should seek for medical attention.