Pregnancy comes with several changes one of which is fluctuation in hormones that may impact a woman's drive for intimacy. This article examines the safety of intimacy during pregnancy.
According to MedicalNewsToday, it is completely safe for a woman to continue having s£x throughout her pregnancy unless her doctor or midwife has told her otherwise. In fact, a woman's s£x drive may increase at certain stages of the pregnancy, and having s£x can have some benefits.
Also, the idea that sex will harm the baby is not true. This is because the baby is protected by strong uterus muscles, amniotic fluid , and a mucus plug that develops around the cervix.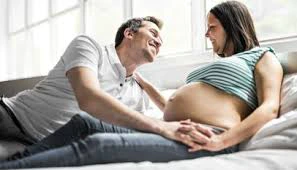 While intimacy does not harm a pregnancy, it is often recommended to avoid positions that may put pressure on the baby. Also, If a woman lies on her back, the weight of the baby might put extra pressure on her internal organs or major arteries.
Thus, a woman should choose positions that are more comfortable and will not put pressure on her belly.