7 Healthy Anti Ageing Foods You Should Eat Regularly
October 11, 2022
Everyone wants radiant skin. Food plays a significant role in delaying aging and making people look younger than they are, although many people are unaware of this. Since aging results from a natural process in the body, it is unavoidable. Although becoming older is inevitable, how fast the physical signs of aging develop on a person can be greatly affected by their diet.
Healthline states that the skin is the body's greatest organ and that it shows thanks to the outside world when we eat meals high in antioxidants, good fats, water, and essential minerals. Although anti-aging cosmetics and other skin care products can help with the visible signs of aging, such as wrinkles, the healthiest way to prevent them is through a balanced diet rich in fruits and vegetables.
Here are 7 anti-aging foods you should eat regularly if you want to look years younger.
1. Sweet potatoes: Sweet potatoes are a nutritious food for anyone, according to healthline. People often believe falsehoods, such as that sweet potatoes are bad for adults because of their high sugar content. There are many nutrients and properties in sweet potatoes that help regenerate skin, promote suppleness, and decrease the visibility of wrinkles.
2. Spinach: many Igbos referred to this vegetable as 'green.' As a vegetable, spinach is loaded with nutrients including vitamins and iron. Spinach's vitamin content helps make skin more elastic and smooth while also decreasing wrinkles. Antioxidants are present in spinach and contribute to a renewed body and a halt in the aging process.
3. Plain Yogurt: Yogurt has been shown to assist women avoid ovarian cancer. Some of the beneficial components found in plain yogurts speed up the renewal of skin cells and slow down the aging process.
4. Pawpaw: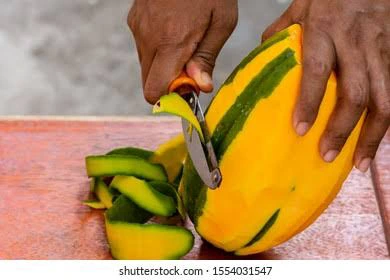 Pawpaw is one of Nigeria's most popular fruits. Pawpaw is a rich source of many nutrients, including vitamins, potassium, calcium, and minerals. The pawpaw is loaded in antioxidants. Pawpaw includes an anti-aging ingredient called papain, which also helps heal skin issues.
5. Watermelon: According to WebMD, watermelon is one of the healthiest fruits available. Because of its high water content, watermelon is great for maintaining skin hydration. Additionally, the molecule lycopene found in watermelons helps shield the skin from the sun's harmful ultraviolet radiation.
Nuts come in a wide variety and have numerous potential health benefits, but few consumers are aware of them. Nuts are rich in vitamin E, which keeps skin healthy and youthful looking by preventing it from drying out and wrinkling.
Green tea, which is made from actual green plants and other natural herbs, is really good for you. Green tea's abundance of skin-beneficial elements helps people seem younger by preventing skin damage and preserving healthy skin cells. Prostate cancer is another type of cancer that can be avoided with green tea.