It is because men and women do not know where they stand in their marriage, there are so many conflicts. The modern woman sees herself as a breadwinner because she is working, and then the man feels like he should share every expenditure with her. There are duties every man must carry out, and there are responsibilities every woman must bear on her shoulders.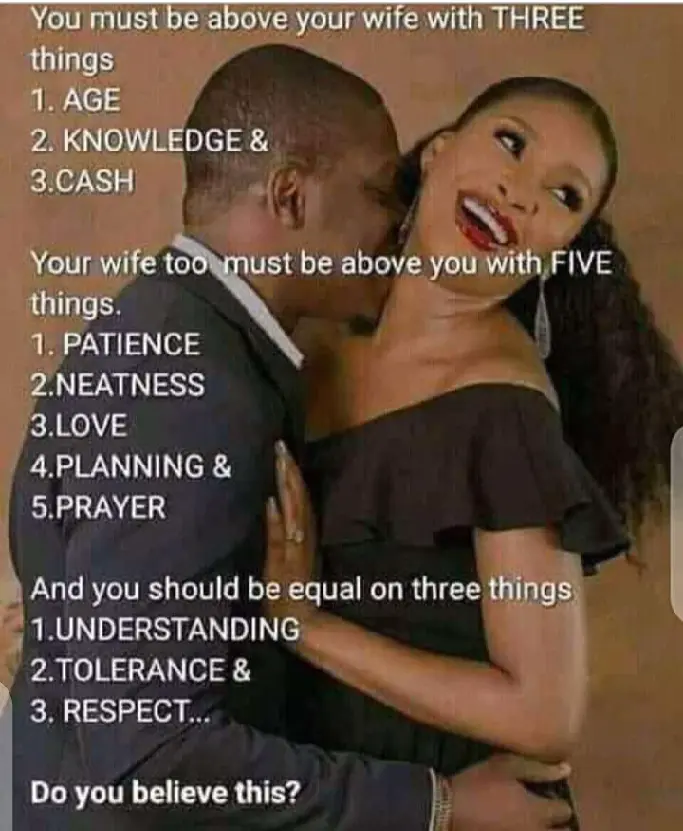 Husbands, you must be above your wives in:-
1. AGE
You must be her senior else there would be no respect. A day would come where she would remind you the year she was born and remind you your own date, just incase you forgot. No matter the male celebrities you see dating or marrying women older than they are, do not mind what you see, make sure you are going for a woman who you are older than with a year or more. It breeds respect!
2. KNOWLEDGE
Even though God said she is your helper, do not expect her to know or figure everything out. You are her senior afterall, you must be more knowledgeable and experienced than she is. Even if you didn't attend school, read books to improve your knowledge. And when you are sure of a decision you are about to make because of your in-depth knowledge, do not let anybody talk you out.
3. CASH
Even if the modern woman sees herself as a breadwinner or working woman, make sure you've got a job and start a business as the family expands. Do not try sharing expenses with your wife because she has a business or she is working. Let her carry the expenses she can afford to without telling her. Make sure you are not cutting the family upkeep money you give to her because you know she will always add her own money to complete it. You are not being a man by doing that. You are passing on your responsibilities to her even when you are still alive to earn. Your job or business do not necessarily need to be more than your wife's, but make sure you are doing everything to earn enough money for the family.
Wives, the husbands are trying to make it happen and so should you. There are many areas where you must be above your husband. One of them is patience. You must try to be patient in dealing with his anger. You are the woman, so you must be neater than he is. The men do not care about keeping a place tidy, so when he is done with the toilet and do not close the lid, go back and close it. You must love him more than he loves you. Your love for him will command more love and melt his heart. Treat him like a baby and take care of him like a child. You must love him till your last breath in good and bad.
Your planning and prayer must beat his. When he goes to his car about to leave for work without remembering to pray, call him back and share the Grace. You should try to think ahead of the week and get things done. Pray without season. As a married woman and mother, you should pray like Jesus Christ did even in His trial. Lastly, you both must be on an equal level in Understanding, Tolerance and Respect. Husbands, you must respect her as much as she respects you. If you claim you are a man, she is also a woman and the mother of your kids, she deserves some respect. Tolerate each other's every shortcomings. That is the cross Jesus asked you to carry and follow Him if you truly love Him. Carry the cross of your partner and go with it. Try to understand each other's sad move and what the perfect medicine is. If he says he wants to be left alone, beg him to talk to you a bit, and if he still behaves stubborn, tell him Married Couples Don't Leave Each Other Alone!
Appreciate my efforts by liking this article and please follow me also. Thanks!